Custom Solutions
ETI's exclusive service delivery program is highly integrated, yet completely flexible and consists of the highest quality proactive and responsive solutions available. We encourage our customers to select the services that will benefit their organization the most. Our comprehensive maintenance program ensures maximum efficiency and quality for all your modifications, repairs, or overhauls.
Workflow
Upon receipt of a part, component or engine, a work order is created and a complete teardown inspection report is initiated.
A Scope-of-Work offering a number of repair options is sent to the client for approval. This allows the customer to cost-effectively manage the maintenance of life-limited parts and components
Upon customer approval of the SOW, an action plan is then created and the parts and components are refurbished.
Benefits
Receive regular updates as the work progresses
Work tailored to your exact requirements
Fastest-possible turnaround time offered
Modifications, repairs, or overhauls upheld to the most rigorous quality standards
Best warranty in the industry
AOG/Expedited Service and Field Service
ETI offers a range of services to meet your urgent requirements. When you have an aircraft on the ground (AOG), you can count on us for as fast a turnaround time possible–this includes after regular workday hours and weekend service. One of our engine technicians can be dispatched to your location for immediate assistance.
Benefits:
24-hour service, 7 days a week, 365 days per year
On-site technical support
Quicker response and turnaround times
24-Hour Troubleshooting
We will help you find the cause of problem areas or possible engine failures. We pride ourselves on offering worldwide service, troubleshooting and technical support wherever and whenever you need it.
Benefits
Live technical support and troubleshooting services
An always reachable, real person — no recordings
24-hour-a-day service, every day, at +1-514-633-4458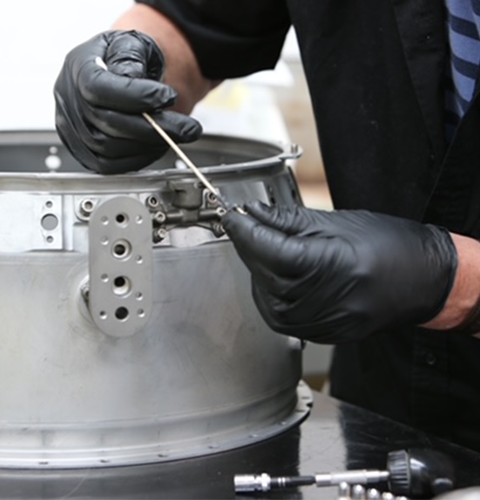 Pre-buy Helicopter and Engine Inspections
Making a bad acquisition can be costly. That's why ETI offers Pre-Buy Inspection services to help you make the best decision and protect your investment.
When we perform a Pre-Buy Inspection, we visit the source, validate its condition, and evaluate its appraised value. We perform a thorough inspection which can include the disassembly and/or removal of parts blocking access to the completion of a detailed inspection.
When purchasing a Time-Continued serviceable engine, we highly recommend that you make the offer to purchase subject to an MRO Service Provider's review. We can save you thousands of dollars in parts and rework replacements.
Benefits
Pre-buy inspections available for a single module, engine, or a complete helicopter
Assessment for serviceability, current mod status and Commercial Engine Bulletins (CEBs)
Detailed report with clear findings
Possibility of referrals to companies with other capabilities, such as airframe
Rental, Exchange and Outright Sale Assets
In order to offer the fastest turnaround times possible, ETI carries an inventory for sale, exchange, or rent, of:
Parts
Accessories
Modules
Engine assemblies
Benefits
Exchange programs reduce costs involved when an aircraft is on the ground
An overhauled accessory is provided immediately, at the same price as the cost of the overhaul of your accessory
Surplus Inventory Purchases
Warranties
We are dedicated to providing you with an unmatched level of support and attention to detail. We stand behind and warrant our workmanship conforming to the intent of the requirements of the manufacturer, and that its quality is in accordance with various industry and airworthiness standards and regulations.
Training
ETI is a Transport Canada approved Authorized Training Organisation that offers best-in-the-industry training on:
RR M250 field-maintenance and familiarization training for pilots
RR M250 engine training for aircraft maintenance technicians
We customize the content of the courses to your particular needs. The courses are taught and engineered by Michael Guntner Sr., who has been teaching RR M250 engine courses worldwide since 1976.
Our training courses are certified by:
They can be held at:
Our classroom at our head office in Montreal, or
Your facility, hometown, or other destination upon request